To start off the brand new year my mentor Mario asked me if I wanted to accompany him on a trip to Hueco Tanks, Texas, the bouldering Mecca of the US. I didn't think twice before saying yes and the plan was in place. We were to leave on Wednesday night after climbing at the gym.
We stopped about 4 hours from Hueco Wednesday night, we were traveling in Mario's climbing van. This would be my first time in a Van of such stature, the thing was pretty epic.. A full sized mattress in back, cubbies for gear, a portable grill, and crash pads everywhere. It was more like glamping than camping..
When we got going on thursday Mario and I got sidetracked a few times on doing things that we thought looked cool. One of these included checking out some "Salt Flats". We Drove the van out into this white washed land scape for about 20 feet and then the van stopped. Turns out it's not a salt flat, it's a white lake bed with mud everywhere. There's a great vid of Mario and myself getting the van out, which eventually not only includes our van, but two pickup trucks, one of which being the TXDOT (Texas Department of Transportation) truck who are pros at yanking vehicles out of the mud btw.
We pulled into the AAC (American Alpine Club) Center near Hueco around 9ish, and hit the sack. We got going early on Friday morning to make sure we were able to enter the park. Hueco not like most places has a limited number of guests who can be in the park at any one time. Luckily, we get in, watch the instructional Hueco Tanks video and get hiking up the mountain. We didn't really try anything too crazy at the start of the day, just a few V1's and V2's and Mario put me on like a V5 that was pretty impossible. Gym boulders are waaaaaaaaaaaaayy easier than outdoor bouldering, mad props to the people who can boulder hard outside.
Towards lunch time we run into a group of climbers from the El Paso area and climb with them for the rest of the day. One of the cool parts of running into random climbers is that even if you know nothing about them.. you know they rock climb, and thats enough. We crush a pretty good amount of routes, have a few laughs, and head back to the AAC Center.
We meet up with the rest of our group we'll be climbing with through the weekend. The group was three Photographers and Three Climbers, though the photographers were professional and we were not. Sean, Michael, and Steve were the photographers and Myself, Mario, and Kari were the climbers for the trip. We get going on Saturday Morning and decide to do some Trad Climbing.. Yes there is Trad Climbing at Hueco Tanks.
Mario being the only experienced trad climber and guide out of all of us led us across the gigantic Granite boulders that made this massive mountain. We climb to about 100-150 feet above the deck and start setting up anchors on gear. Mario looked over to me and goes "Alright rap down and i'll meet you at the bottom." My hands shaking I load my ATC. This would be my biggest rappel yet. After we get to the bottom Mario looks for a crack line he can run up and Steve got set up on the Top Rope line we let down for him to take pics on.
I belay Mario as he glides up the cracked wall placing cams every 5-10 feet, it's like watching a fish glide through a river, it's just flowing movements. I back clean the route after him and we decide to move on to bouldering to finish out the day. We hopped on a few V1 and V2's to get warmed up and found a really fun V2 called "Nobody Gets Out of Here Alive" that the photographers loved because the lighting on the route was awesome. We take it pretty easy the rest of the day, a v4 being the hardest thing we climb on at the end of the day.
Sadly a Mario and I found ourselves in a weird predicament and forced to find another spot to climb at on Sunday, so we pick Sitting Bull Falls New Mexico. This place is probably in the top places i've ever climbed. You drive up to the end of this super long canyon and it's the Amphitheater look of these overhanging climbs that are about 50-70 feet tall.
There's still snow on the ground and the Sun is behind us, so we don't waste any time in getting up to the wall. We get climbing first on a warmup (Not really warm... Hands were numb) 5.10a that Mario leads, I back clean, and Kari top ropes (Her first outdoor rope send!) With good feels going all around Mario decides to run up a 5.12b/c that looks incredibly difficult. After loud try hard screams, Mario sends the route and I attempt to back clean it .What really happens is me creating a make shift ascender and boinking/ascending the rope. Needless to say we were WHOOPED, we all hop in our vans and hit the road back home.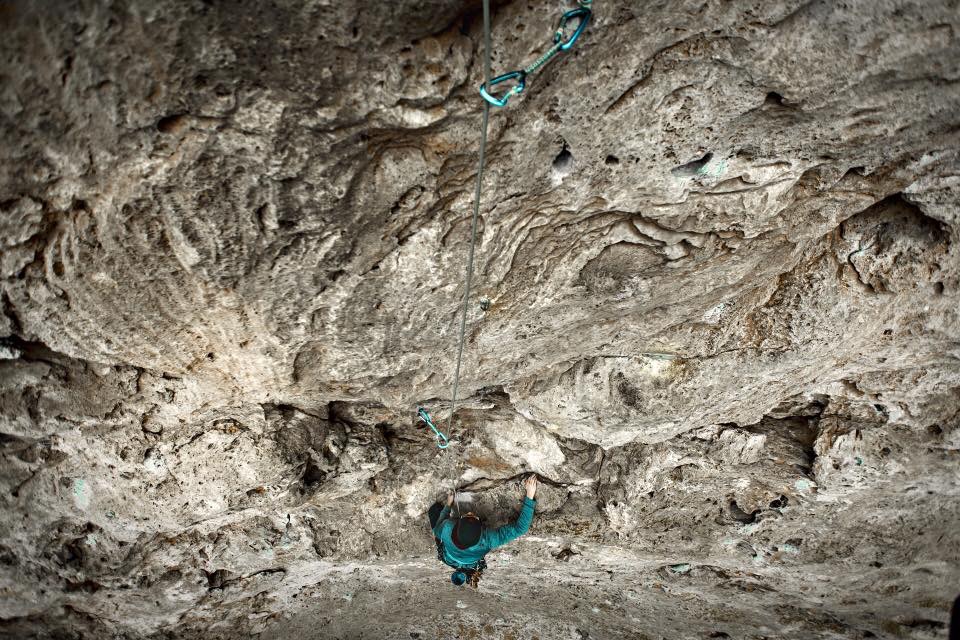 Overall the trip was amazing. I met 4 brand new people (Sean, Steve, Michael, and Kari) Laughed like i've never laughed before. Learned new things. Bouldered for the first time ever outside. This trip only further renewed my passion for climbing and adventure, and this trip was filled with both for sure haha. Can't wait for my next trip out to Hueco!