The SunRiser crew went to Colorado last week! I had been planning this trip for a while so It was really nice to finally get out on the road. Chris and I left on Thursday (June 30th) at about 11pm and we arrived in Durango, Colorado, which is the town where we'd be doing most of our climbing/hiking near, at about 12pm. It was cloudy and semi rainy when we pulled up to the cabin and about 50 degrees which was INCREDIBLY nice compared to the 100+ temps we had just came from in Texas. We got settled in and Denis and Krista came back from town and we all talked about the drive and plans for the week. We decided for that night since it was raining and cloudy to just go check out the climbing gym in Durango. It was a super unique climbing gym, 3 stories, and they had some really amazing rope routes.
Being from Texas, we were expecting the bouldering in the gym to be a lot softer than ours in the south..it was not, and the altitude made it very cardio intensive hahah. I hopped on a few V5s, they had a super awesome cave/roof climbing section that was awesome to climb in. I also hopped on a lot of rope routes which were more like outdoor climbing than anything i've felt in the south. 5.11s and 12s were super realist, tough, and technical climbs. Probably has something to do with the fact that the gym is about 15 min away from an actual rock climbing wall, where as in Dallas we have a 4 hour drive to some good rock. After, we headed back to the cabin, cook dinner and pass out for the night.
Saturday Morning we wake up and decide to go to "Sailing Hawks" Bouldering area in Durango. I've only bouldered at Hueco Tanks in Texas so I really didn't know what to expect from bouldering in a different state. We start up a mild hike following the description of the "Warm Up Boulder" on The Mountain Project app. We would never find this "Warm Up Boulder" but the day would turn out to be just stumbling on one amazing boulder after another. Just great climbs, everything from V0 - V11 and the field just goes and goes and goes.
We run into a guy we had seen at the gym the night before and he hung with us for a while and turned into our guide showing us a few cool boulders.
He told us a little history of the area and that most the routes at Sailing Hawks were V1 - V3 and also that most of the routes were way harder than their grade since the guys who set the area up were some real hard climbers.
The clouds started to roll in around 1pm so we packed up out crash pads and headed back down the hill to the truck. Ended up putting all the gear up and closing the doors right as the clouds started dumping rain. Content with our climbing for the day we headed into town and ate at a pizza place off Main Street in Durango.
Back at the Cabin, Chris and I decided to hike to the small water fall down the hill and go explore a little bit up the mountain for a while.
Sunday we woke up and decided to head to Crater lake near Silverton. Some back story on Crater Lake, My mother a friend and I went to "Crater Lake" when I was younger and I remember it being a short hike with a nice lake at the top that we swam in. So we set off on the drive to Crater Lake, and as we go Krista decides to google the hike before we get there. She says that it's a 6 hour hike.. 11 miles total, which seems longer than I remember but I'm sure that I did Crater Lake as a kid, so we press on. We get to the trail head and set off on our journey at about 11am. The hike is absolutely gorgeous, I highly recommend it to anyone who has 6hrs to kill and a lot of endurance.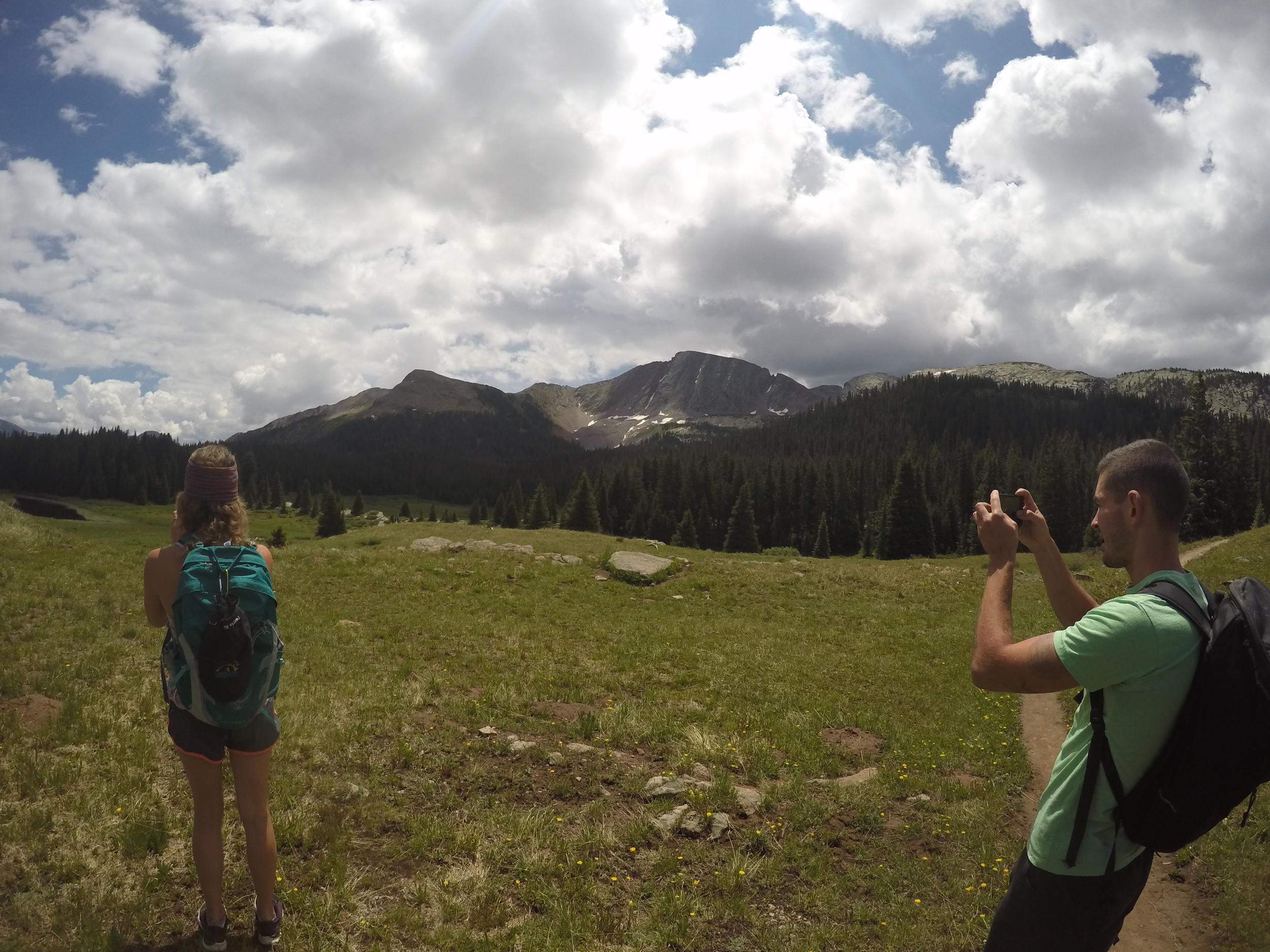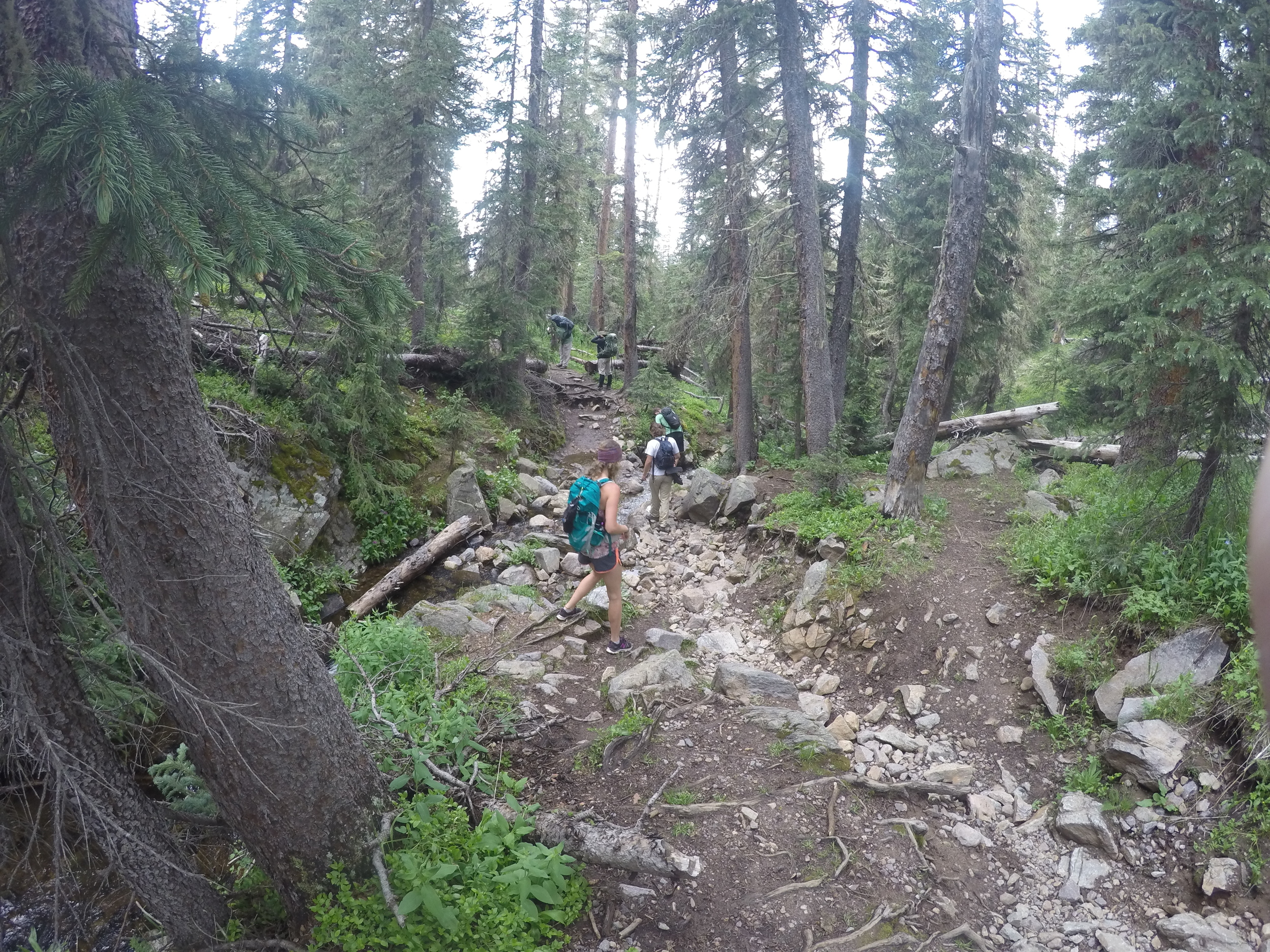 Waterfalls, streams, trees everywhere, amazing landscapes, words can't even describe how beautiful it is. About half way up to the lake, none of the hike is jogging my memory of the hike as a kid, so I text my mom asking her if she remembers it being as long. Turns out my mother and I went to SPUD LAKE when I was a kid, which is only an hour hike and right next to the cabin that we're staying at.. At this point I start laughing historically with Chris because the hike was way more than we had bargained for. We continued on to the lake and it was so worth it, it truly is spectacular in person.
We spend about 30 minutes at the top and then start the hike back down. Denis had decided to do the hike in Chacos, which turned out to not be the ideal shoe to do an 11 mile hike in, especially when it's muddy. So as soon as we get the bottom of the mountain pretty much all of our crew strips our feet of their shoe oppressors and go barefoot on the walk back to the car
Incredibly tired the group decided that we all deserved burgers after the 11 mile hike, so we headed to a burger joint in downtown Durango. Denis gets into a small war with the establishment over a missing milk shake which we end up "winning" leaving in hand with a $5 milkshake which was more milk than shake..leading to many inside jokes for the rest of the trip. We head back to the cabin, our legs dead, and our hearts full.
I wake up on Monday and find it very hard to put weight on my right leg, feeling a lot of pain right below my knee cap. Which puts a dampener on my morning, but regardless we head up into Durango to go do some rope climbing at Golf Wall. After a little trouble finding the parking for the wall, we head to the "Girl Scout" area which hosts the largest grouping of 5.9s and 10s. It's a short 5 minute walk to the wall, where we picked the hardest possible scramble to get to up to the wall, later finding that there are stairs just 10 feet further. We get all the gear and ropes to the top and decide to start on the 5.10 kind of on the center left of the wall. It had a super cowboy start requiring a lot of upper body, which was not what I was expecting for our first route of the day, but got through the bottom half and the route opened up into this super nice climb. Every hold was pretty well chalked up so it was super easy to read the route. the Crux was a horizontal crack sequence which had you walk your body along the crack about a foot then grab a nice juggy horn about an arms length up. The wall we were on would prove to have kind of muscular hard bottom sections followed by kind of slabby, technical top sequences that made the routes super rewarding.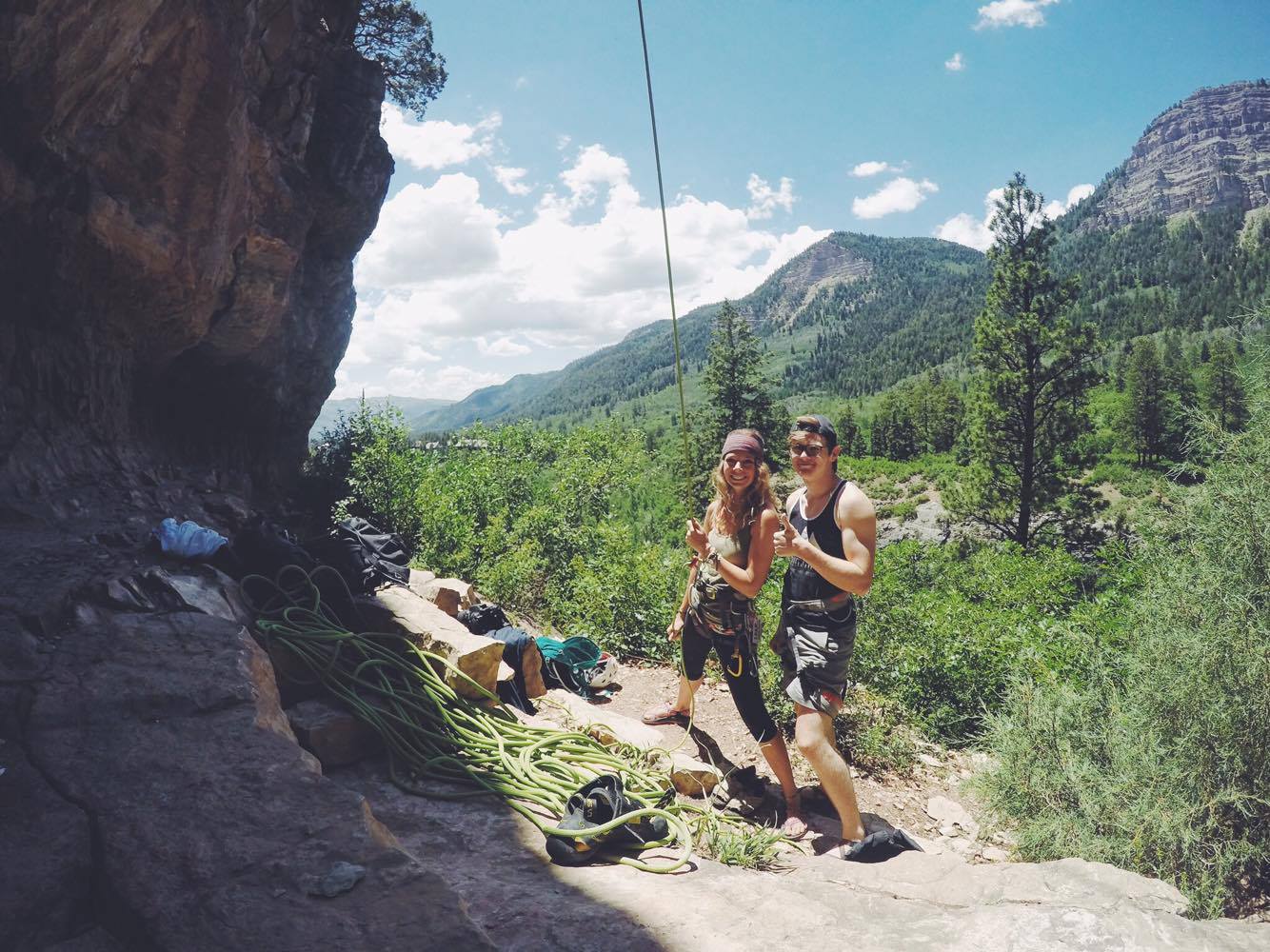 Got a good amount of climbs in and felt content with the day at about 1pm and decided since it was pretty warm outside to take our sweaty selves to Baker Bridge in Durango.
We got to Baker Bridge and I can remember going there as a kid and the water being extremely cold. This childhood memory definitely lived up to expectation as the water was reaaaally cold. However Krista felt the urge to jump off the famous Baker Bridge, which is about a 50 foot drop to the frigid river below.
She was braver than Denis, Chris and myself.. We only worked up the courage to get about waist deep in the water. The river was successful in cooling us all down, and helped my leg not hurt so bad. Since this would be the last day Denis and Krista would be in Durango, we headed back to the cabin to pack up their stuff before the firework show in town.
We all met up in town at a little Bar & Restaurant with a good view of the show and sat back and watched the fireworks. Since I was a kid fireworks have always been a big part of the 4th of July for me. We used to go every year to Kansas City and be with my Aunt on the 4th. We'd have huge Firework shows and it's made that day very special to me. I'm very glad I got to spend it with some of the best friends a guy could ask for.
The Show ended and Chris and I say goodbye to Denis and Krista and head back to the cabin.
Tuesday Chris and I wake up and decide to head to the skate park in town. It's a gorgeous, sunny day and just perfect for hanging out and skating. Sadly I had not brought any shoes to skate in, I only had boots and Chacos..So I became possibly the first Chaco skater of Durango.
I got a lot of "How do you skate in those" throughout the day. We met a dude actually from Dallas at the park and chatted with him for a while. All of the people we met in Durango were incredibly nice, which worked out well for us since a lot of the time we were kind of just going with the flow.
After skating, we headed up to my Grandparents house to take showers and rest for a bit. A fun fact about the Cabin that we were staying in is that most of appliances are powered thru propane and thus have "Pilot Lights"... Since I was born in a time where pilot lights are not common in houses, neither Chris nor myself had a clue what they were or the protocol of what to NOT do with them. Earlier in the day we had cleaned the entire cabin, and while cleaning we stumbled onto these little flames under the stove top. Being in a cleaning mood we decided that we didn't need to use the stove anymore the rest of the trip. So we blew them out, which turned out to be a big no no. When you blow out these little flames underneath stove tops the gas keeps pumping through it, which will fill your cabin with gas, potentially becoming explosive if a spark or a flame occur.
After telling my grandpa of what we had done, he informed us of how pilot lights work, and we hastily headed back to the cabin to open all the doors and windows. Luckily for us the cabin had not exploded when we returned and we promptly aired it out, avoiding a potentially awkward situation of having to explain to our family that the cabin that has been in the family since 1985 had exploded.
We met up with my grandparents, Uncle, Aunt, and cousins at the best restaurant in Hesperus called "Kennebeck" and had an amazing dinner with the family. We said our goodbyes and hugged the family and headed back to the Cabin for our last night in Durango. Chris and I discovered some Vodka that Denis had left in the fridge and decided to indulge. The small amount we had hit us way harder than we expected and turned us into laughing fools in no time. A good way to end the trip (Thank you Denis).
This trip was incredible, I couldn't have asked for better people to live in a cell reception-less, dark, sometimes cold Cabin. It's a trip I won't forget any time soon!